The Race to Regulate AI: Global Comparative Perspectives
Venue
Bonavero Institute of Human Rights & Zoom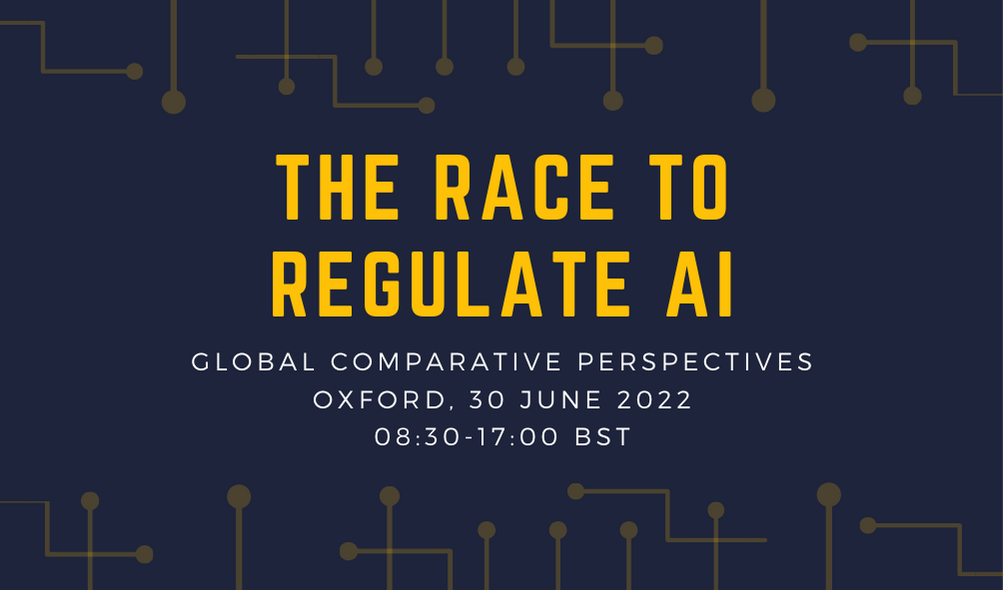 The Race to Regulate AI
Global Comparative Perspectives
30 June 2022
9:00-17:00 BST

Coffee and registration from 08:30
In-person at the Bonavero Institute of Human Rights (Oxford): register interest here.
Online via Zoom: register here.
As AI systems are quickly becoming ubiquitous, so are the regulatory challenges: across the world, new models have begun to emerge at national, regional, and international levels. There is general consensus that existing instruments are insufficient, potentially even inadequate, to deal with the myriad challenges this development poses — but also considerable divergence on what new AI regulatory frameworks should look like.
With the support of the European Research Council, we look forward to welcoming you to Oxford University for this high-level conference. Join us in exploring AI regulation through a comparative lens, examining the extent to which existing and proposed approaches across the world adequately address risks whilst maximising the benefits of AI systems.
We look forward to welcoming you to Oxford!
Professor Jeremias Adams-Prassl
Professor of Law
Principal Investigator

This conference is part of a project that has received funding from the European Research Council (ERC) under the European Union's Horizon 2020 research and innovation programme (Grant agreement No. 947806).
The Organisers
Jeremias Adams-Prassl
| | |
| --- | --- |
| | Jeremias Adams-Prassl is Professor of Law at Magdalen College in the University of Oxford, with a particular interest in the future of work and innovation. He read law at Oxford, Paris, and Harvard Law School, and is the author of over 100 articles and books, including most recently Humans as a Service: the Promise and Perils of Work in the Gig Economy (2018) and Great Debates in EU Law (2021). His work has been recognised by prizes and awards including the Modern Law Review's Wedderburn Prize, a British Academy Rising Star Engagement Award, and the 2020 Leverhulme Prize. Since April 2021, he has led a five-year research project on Algorithms at Work, funded by the European Research Council. Jeremias tweets at @JeremiasPrassl. |
Halefom Abraha
| | |
| --- | --- |
| Halefom Abraha is a Postdoctoral Researcher at the Bonavero Institute of Human Rights (University of Oxford). He researches the impact of AI and algorithms on privacy and data protection. His research interests include AI Regulation, Cross-border Data Access in the law enforcement context, Data Protection, Digital Sovereignty, and Internet Regulation. Halefom has recently submitted his PhD research in Cross-border Data Access at the University of Malta. His research has been published in international journals such as the International Journal of Law and Information Technology, International Data Privacy Law, and Information & Communications Technology Law. | |
Aislinn Kelly-Lyth
| | |
| --- | --- |
| | Aislinn is a Researcher on Algorithmic Management at the Bonavero Institute of Human Rights (University of Oxford). Her research focuses on the regulation of technology in the employment context, including through equality law and data protection law. Aislinn completed her legal studies at the University of Cambridge and Harvard Law School. Her work has been published in the Oxford Journal of Legal Studies and the Comparative Labor Law & Policy Journal. Before coming to Oxford, Aislinn previously worked as a legal researcher for charities like JUSTICE and the Global Legal Action Network (GLAN), and taught at the London School of Economics. |
Six Silberman
| | |
| --- | --- |
| Six Silberman is a Postdoctoral Researcher at the Bonavero Institute of Human Rights (University of Oxford), contributing to research on regulating algorithmic management. Silberman has previously been a software engineer and trade union official, and was co-founder with Lilly Irani of Turkopticon, a client reputation system used by workers on Amazon's 'Mechanical Turk' crowdsourcing platform. | |
Panel 1: Data Protection Law as a Tool to Regulate AI
9:30 - 10:45
Elizabeth Denham
| | |
| --- | --- |
| | Elizabeth Denham CBE joined Baker McKenzie as International Consultant, Data and Tech in 2022. She has over 15 years' experience as a data protection regulator in four jurisdictions. She was most recently the Information Commissioner for the UK (2016-2021). During her tenure she chaired the Global Privacy Assembly, which brings together more than 130 data protection authorities around the world. She has tackled some of the most complex issues facing the digital economy, including the use of live facial recognition technologies and the transparent and fair use of analytics and AI. |
Alex Makulilo
| | |
| --- | --- |
| Alex B. Makulilo is Full Professor of law and technology at the Open University of Tanzania. His research has a special focus on regulation of data privacy, cyber security, internet governance, and intellectual property in the digital environment; as well as legal aspects of digitalization and innovation. Professor Makulilo has received several recognitions for his research, including the honorary title of Research Ambassador of the University of Bremen, and the Georg Forster Research Fellowship from the Alexander von Humboldt, which is given to international researchers for their outstanding research record. | |
Yi Zeng
| | |
| --- | --- |
| | Yi Zeng is a Professor and Director of the International Research Center for AI Ethics and Governance, at the Institute of Automation, Chinese Academy of Sciences. He is a board member for the National Governance Committee of Next Generation Artificial Intelligence, China; the lead drafter of Beijing Artificial Intelligence Principles; and one of the major drafters for the National Governance Principles of New Generation Artificial Intelligence. He is a member of the Ad Hoc Expert Group on AI Ethics, UNESCO. |
Orla Lynskey (Discussant)
| | |
| --- | --- |
| Orla Lynskey is an Associate Professor at LSE Law School and a Visiting Professor at the College of Europe, Bruges. Her research interests include data protection law and policy and regulation of technology. She is currently an Editor of International Data Privacy Law and the Modern Law Review and a member of the Ada Lovelace Institute's Rethinking Data Regulations working group. | |
Panel 2: Labour Law and AI
11:15 - 12:30
Charlotte Burrows
| | |
| --- | --- |
| | Charlotte A. Burrows was designated Chair of the U.S. Equal Employment Opportunity Commission (EEOC) by President Biden on January 20, 2021. Chair Burrows has advocated for strong workplace civil rights protections and robust cooperation between the Commission, employees, civil rights advocates, and employers. She is particularly interested in the impact of new and emerging technologies on civil rights and employee privacy. In 2021, she launched the EEOC's initiative to examine the use of algorithmic decision-making tools, including artificial intelligence, in employment. |
Veena Dubal
| | |
| --- | --- |
| Veena Dubal is a Professor of Law at UC Hastings. Professor Dubal's research focuses on the intersection of law, technology, and precarious work. Within this broad frame, she uses empirical methodologies and critical theory to understand (1) the impact of digital technologies and emerging legal frameworks on the lives of workers, (2) the co-constitutive influences of law and work on identity, and (3) the role of law and lawyers in solidarity movements. | |
Daniel Pérez del Prado
| | |
| --- | --- |
| | Daniel Pérez del Prado is an associate professor at Carlos III University of Madrid, specialising in Social Law and Labour Economics. He is also a member of the University's research group on Economic Changes, Labour law and New Society. He is author of four books and more than one hundred articles, and has been a visiting professor at the University of Cambridge, the Université Libre de Bruxelles, and the University of Leuven (KU Leuven), among others. He has acted as an expert for the European Commission, the European Parliament, and Eurofound. |
Johanna Wenckebach
| | |
| --- | --- |
| Dr Johanna Wenckebach has been the Scientific Director of the Hugo Sinzheimer Institute, Frankfurt, since 2019. She is a Law Lecturer at the Berlin School of Economics and Law; the European Academy of Labour, Frankfurt; and EBS Law School, Wiesbaden, and is the author of various books on labour law with a focus on collective bargaining, workers' representation, and anti-discrimination law. Dr Wenckebach is an honorary judge at the Labour Court of Berlin. She has formerly been a Supervisory Board member at Volkswagen Sachsen GmbH and a collective bargaining lawyer at IG Metall. | |
Sarah Myers West (Discussant)
| | |
| --- | --- |
| | Dr. Sarah Myers West is a Research Scholar at the AI Now Institute and a Visiting Research Scientist at Northeastern University's Network Science Institute. Her research focuses on the intersection of technology, labor and platform accountability, and is published in journals including Social Studies of Science, Policy & Internet and Business and Society. It has also been featured in the Wall Street Journal, PBS, CBS, the Associated Press, and Motherboard, among others. She holds doctoral and masters degrees from the Annenberg School of Communication at the University of Southern California. |
Panel 3: Trans-national Approaches
13:30 - 14:45
Heather Benko
| | |
| --- | --- |
| | Heather Benko is a senior manager in the Standards Facilitation Department at the American National Standards Institute (ANSI). ANSI brings together organizations from both the private and public sectors dedicated to furthering U.S. and international voluntary consensus standards and conformity assessments. It is the sole US representative to the International Organization for Standardization (ISO) and the International Electrotechnical Commission (IEC). Heather is the Committee Manager for the ISO/IEC JTC 1/SC 42 on Artificial Intelligence (ISO page; LinkedIn page), which is developing standards for the entire AI ecosystem. |
Jan Kleijssen
| | |
| --- | --- |
| Jan joined the Council of Europe in 1983 as a Lawyer with the European Commission of Human Rights. Subsequently he served in the Parliamentary Assembly and as Director of the Secretary General's Private Office. He is currently Director of Information Society - Action against Crime. His Directorate carries out standard-setting, monitoring and co-operation activities on a wide variety of issues, including Data Protection, Artificial Intelligence, and Internet Governance. He tweets at @jkleijssen. | |
Audrey Plonk
| | |
| --- | --- |
| | Ms Audrey Plonk is Head of the Digital Economy Policy (DEP) Division of the Directorate for Science, Technology and Innovation (STI) at the OECD. As Head of Division, Ms Plonk contributes to the development of evidence-based policies through multi-stakeholder processes to i) stimulate the growth of an accessible, innovative, open, inclusive and trustworthy digital economy for sustained prosperity and well-being, and ii) provide policymakers with the tools needed to develop a forward-looking, whole-of-government policy response that leverages the potential of digitalisation for growth and well-being. |
Chinmayi Arun (Discussant)
| | |
| --- | --- |
| Chinmayi is currently a resident fellow of the Yale Information Society Project. In the past, she has served on the faculties of two of the most highly regarded law schools in India, and was the founder Director of the Centre for Communication Governance at National Law University Delhi. She was a Fellow of the Berkman Klein Center of Internet & Society at Harvard University from 2017-2019, has been a Human Rights Officer with the United Nations, and remains a member of the United Nations Global Pulse Advisory Group on the Governance of Data and AI. Her recent writing has focused on the impact of AI and algorithms on human rights in the Global South. | |
Panel 4: Omnibus AI Laws
15:15 - 16:30
Luca Belli
| | |
| --- | --- |
| | Luca Belli is Professor of Internet Governance and Regulation at Fundação Getulio Vargas (FGV) Law School, where he directs the Center for Technology and Society (CTS-FGV) and the CyberBRICS project. Luca is also associated researcher at Centre de Droit Public Comparé of Paris 2 University and editor of the International Data Privacy Law Journal, published by Oxford University Press. Luca's research explores regulation and digital policy issues, with a particular interest in the digital policies of the BRICS countries (Brazil, Russia, India, China, and South Africa). |
Lori Perine
| | |
| --- | --- |
| Lori A. Perine is an associate researcher at the National Institute of Standards and Technology (US) and a doctoral candidate at the University of Maryland's iSchool. Her research explores sociotechnical approaches to AI in various domains, as well as associated public policy. Perine has a respected career as a STEM and energy policy-maker, alliance executive, and consultant. She has served on a Presidential Transition Team, held executive positions at the White House Office of Science and Technology Policy and in international technology alliances, and sat on intra- and intergovernmental councils. | |
Kim van Sparrentak
| | |
| --- | --- |
| | Kim van Sparrentak is a Member of the European Parliament for the GroenLinks political party. She serves on several parliamentary committees, including the Special Committee on Artificial Intelligence in the Digital Age. The Committee has been appointed to develop a long-term vision, goals and next steps on artificial intelligence. Within this Committee, Kim is committed to AI that serves society and respects fundamental rights. She focuses on non-discrimination, AI and sustainability and protecting workers when using AI in the workplace. |
Sarah Chander (Discussant)
| | |
| --- | --- |
| Sarah Chander is Senior Policy Adviser at European Digital Rights (EDRi) leading the work on AI policy. Her work includes the development of specific recommendations on the EU AI Act from a fundamental rights perspective. Sarah is also a Racial Justice and AI Fellow at the Ada Lovelace Institute in London, and an advisory member to a number of initiatives tasked with ensuring inclusion and non-discrimination in digital policy and activism, including the Justice, Equity and Technology Project at the London School of Economics. | |